All news
November 30, 2021
ICMAH Annual Conference 2021 (Online) Conference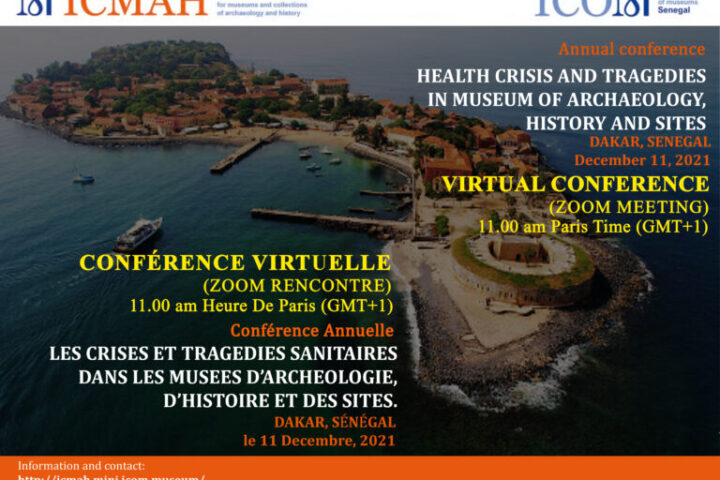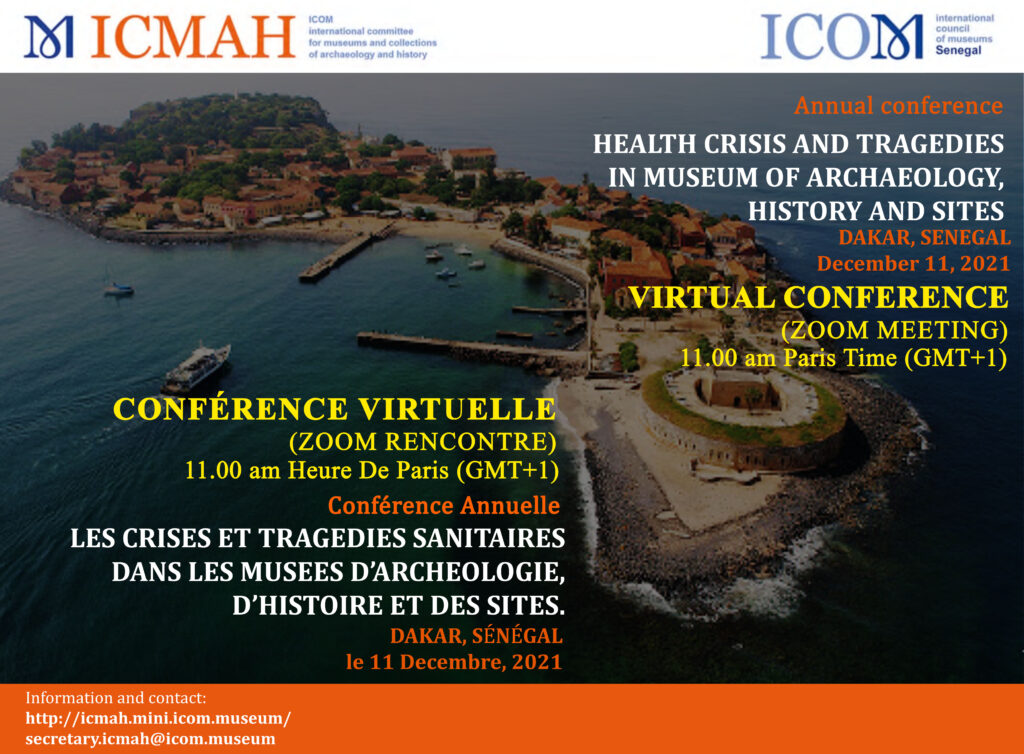 Dear Members, Museum Professionals, Colleges and Friends,
ICOM – ICMAH International Committee for Museums and Collections of Archeology and History realizes an annual conference each year with a different theme.  This year ICMAH is cordially invites you to attend its Annual Conference titled: 
Health Crisis and Tragedies in Museum of Archaeology, History and Sites.
11December 2021 – Dakar – Senegal , Virtual Conference
Health, epidemic and pandemic crises have affected throughout history a large number of people around the world. They challenge us by their magnitude and the scars they have left on our lands and in our memories.  Due to climatic, physical, economic or social factors, they reveal that, with very few exceptions, our ancestors suffered from the same health problems as today's man. Only the frequency of these diseases and their evolution have been modified. But they challenge us by their magnitude and the scars they have left on our lands and in our memories. At the time when our nations are facing a pandemic and community needs have abruptly changed, museums have quickly adapted to continue working in many different ways.
In museums of history and archaeological sites, collections and documents are collected, preserved and maintained. The analysis of these material and immaterial testimonies dating from prehistoric, historical and even contemporary eras, which inform us about the variations in the frequency of these calamities over time, can certainly shed light on the erection of barricades, the closure of border crossings, the limitation of movements, and confinement.
In this regard, ICMAH annual conference 2021 is focusing on the impact of these past crises and tragedies on museums of archaeology and history, a series of actions that became the key concept for today's museums. The conference covers three themes, which are:
1st Theme: The Message Behind Collecting and Exhibiting.
         How do museums collect, assemble, study and interpret Material evidences to help understand the crises and tragedies?
         How do museums get involved in the work of remembrance, the quest for recognition or justice for the heirs of these tragedies?
2nd Theme: The Visitors' Experience of Traumas.
          How can exhibitions be displayed without creating stress and trauma to visitors?
3rd Theme: Communities, and social experience after the crises.
          How do exhibitions keep memories alive for wounded communities?
          How can museums and other cultural institutions contribute to community building and commitment after experiencing these crises?
The conference is jointly organized by ICOM-ICMAH and ICOM-Senegal. Due to the currant Pandemic, the conference is going to be held  virtually in 11th December 2021 for 3 hours.
Meeting Zoom Link: https://us02web.zoom.us/j/86030574927?pwd=cnBJbWQvQnhKeTJHZ0p3T3ljdUJhZz09
Webinar ID: 860 3057 4927  
Passcode: 435667 
For more information about the conference, please contact: secretary.icmah@icom.museum 
The Conference Program is HERE
For all ICMAH Members, kindly note that ICMAH Annual meeting will be held directly after the Annual Conference for extra 30 min, so please remain online.
Cardinally,
ICMAH BOARD