All news
December 8, 2020
ICMAH Sports Museums Webinar Workshop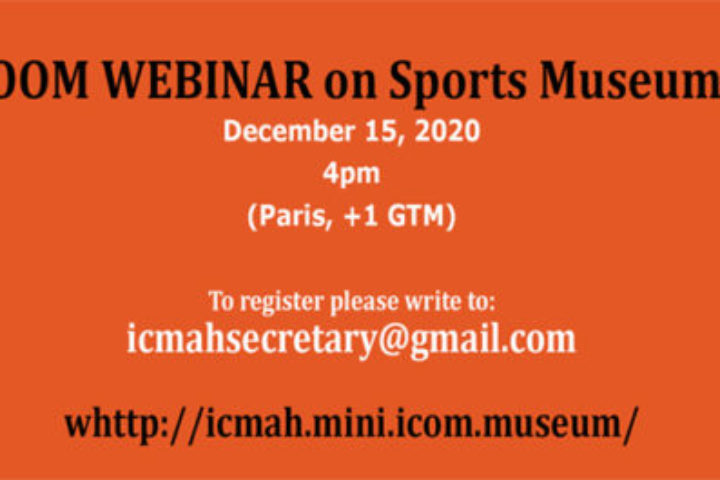 Dear ICMAH members, museum professionals, and friends,
The ICOM International Committee for Museums and Collections of Archeology and History (ICMAH) wishes to help the communication about sports in the history and archaeology museums and collections. For this purpose, since 2017, ICMAH has a "working group" on sports museums and sports heritage. Since then we have organized 3 workshops. The programs and reports of these workshops are available on the ICMAH website.
This year, due to the pandemic, we are realizing our 4th workshop online, which will have an emphasis on South America. In collaboration with ICOM Colombia, we are aiming to extend our network on sports in Latin America. That's why we are pleased to invite you to our zoom webinar in English and Spanish (simultaneous translation is available) on December 15, 2020. If you care to join us, we kindly ask you to inscribe to the event by writing us an email to icmahsecretary@gmail.com.
Here is the Zoom meeting information:
When: Dec 15, 2020 04:00 PM Paris
Topic: ICMAH – Sports and Museums
Webinar ID: 840 5774 5112
Passcode: 033416
Please click the link below to join the webinar:
https://us02web.zoom.us/j/84057745112?pwd=aDQ3Rk02bW0vcFFYYVRqNVhLL3p1QT09
Best regards,
The ICMAH Board