All news
October 5, 2023
ICMAH'S 8th WORKSHOP ON SPORTS MUSEUMS, Paraguay 2023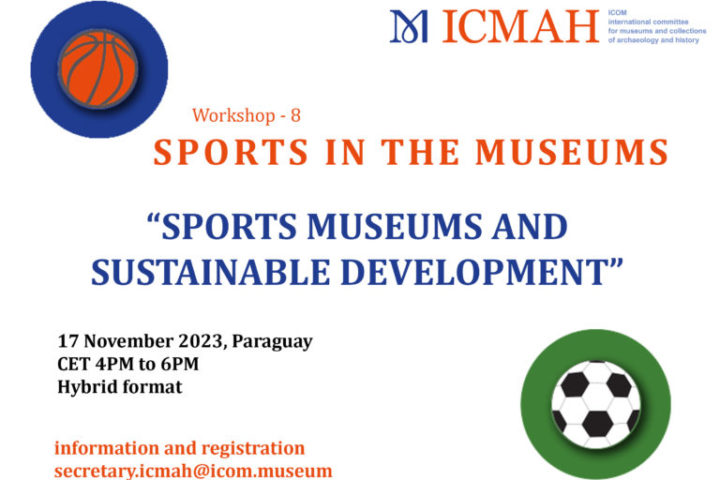 Sports museums where sports tangible and intangible heritage are collected, conserved and presented are a specific type of museums of society. The thematic of sports, although it exists since antiquity, is a matter of the recent past due its collections and actions about modern times. Museums specialized on sporting heritage are relatively recent; most of them have been founded in late 20th century and theoretical work on museological aspects on sports museums is very limited compared to other kind of museums.
This year ICOM ICMAH's 8th Workshop on Sports Museums will be held this year in Paraguay, as a part of ICMAH interesting Annual Conference 2023, under the title:
"SPORTS MUSEUMS AND SUSTAINABLE DEVELOPMENT"
The objectives of the workshop on "Sports Museum and Sustainable Development" are:
* Defining different models of sustainability; exhibition, management, communication, financial organization …
* Sustainability of sporting heritage and collections; collecting, conserving, preserving and proposing for research.
* Making Sports Museum more visible and more attractive in the local and the international milieu.
The workshop will be realized on 17th of November, 2023 in Museo de ITAIPU Tierra Guarani, Hernandarias, Paraguay from 9 AM to 11 AM local time (GTM -4 : CET 4 PM to 6 PM), for all information please check the full call HERE
The presentation proposals are accepted until 27th of October 2023. The presentations can be online and on place. The duration will be 15 minutes. The form of presentation is on Power point format.
For online participation please register until 4th of November 2023 by sending an e-mail to
Secretary.icmah@icom.museum or our ICMAH Board Members and Sports Museums Working Group.