All news
June 24, 2021
Workshop 6 – Sports In The Museums of History and Archaeology – Sports Heritage in the European Museum Workshop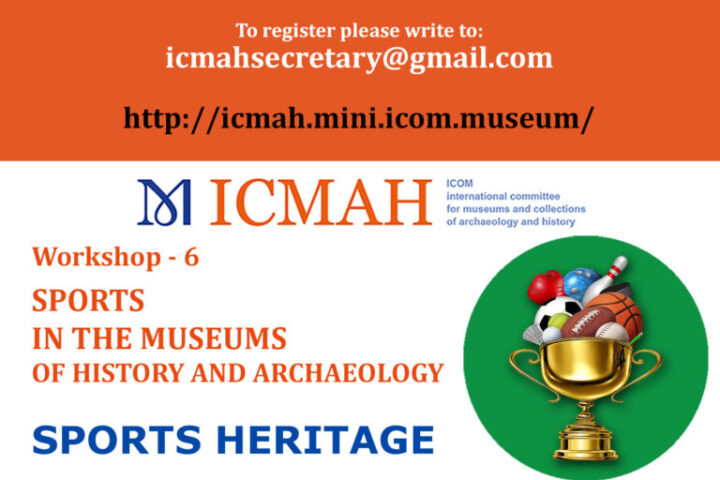 Dear ICMAH members, museum professionals, and friends,
Sports museums have a particular typology which does not represented in the International Council of Museums (ICOM). ICMAH is being aware of this lack, initiated since 2017, a working group on sports museums. After our first workshops successively on April 2017 in the National Sport Museum, Nice, France, on October 2017 in Baku, Azerbaijan, on October 2018 in the Besiktas Club Museum in Istanbul, Turkey, we gain acceleration during pandemic, thanks to the digital meetings, and organized two more webinar one with ICOM Colombia on December, 2020, on "South America: Field of Sports Cultures" and the second on "Covid 19 impacts and consequences on sports Museums" on April, 2021.
Since last year our online workshop program is established on a double path proposing thematic approaches about the actuality such as pandemic and regional encounters over the World such as sports in South America and now sporting heritage and museums in Europe. For this purpose we invite a new initiative which prepares a proposition of sports heritage connection for the Cultural Routes of the Council of Europe.
The intense participation and interest into our webinars, encourages us to continue to organize events, to initiate more concrete collaborations, activities and especially a sustainable network on sports museums. During the year, we will continue our meetings and we also would like to discuss with all our participants about a solid working group that can influence the world of sports museums.
To create more synergy between sports museums do not hesitate to contact us, to share your activity, to propose more… You are openly invited to take part in this international initiative. We continue our exchange today with the various sports museums, whatever they may be. This time, the webinar will deal with European museums, whether they are club museums such as the World Rugby Museum or whether they present some aspects of sport such as Olympism in The Hungarian Olympic and Sports Museum.
Other museums, as we shall see this afternoon, preserve collections relating to sport within less specific, more diversified establishments, such as the collections of the Department of Physical Education and Sport History of the National Museum in Prague. Others deal more broadly with societal issues, such as the Museum of Sports and Tourism in Warsaw, a permanent exhibition that looks at the history of sport, showing in particular how politics and wars have affected the Polish sporting spirit. In any case, all of them, are generally exceptionally lively units that react to contemporary social needs. And this, is what we will see, with the Olympic Museum in Slovakia, with which, we will conclude our exchanges this afternoon.
In this regard, ICMAH is pleased to invite you to our zoom webinar in English, French and Spanish(simultaneous translation is available) and
Here is the Zoom meeting information:
When: July 2nd, 2021 – 1.30 PM, (Paris +2 GTM)
Topic: ICMAH – Sports and Museums – 5th Workshop
Program: The Workshop program.
If you care to join us, we kindly ask you to inscribe to the event by writing us an email to icmahsecretary@gmail.com.
Best regards,
The ICMAH Board