All news
November 16, 2023
ICOM ICMAH Annual Conference, Sports Workshop, and General Assembly 2023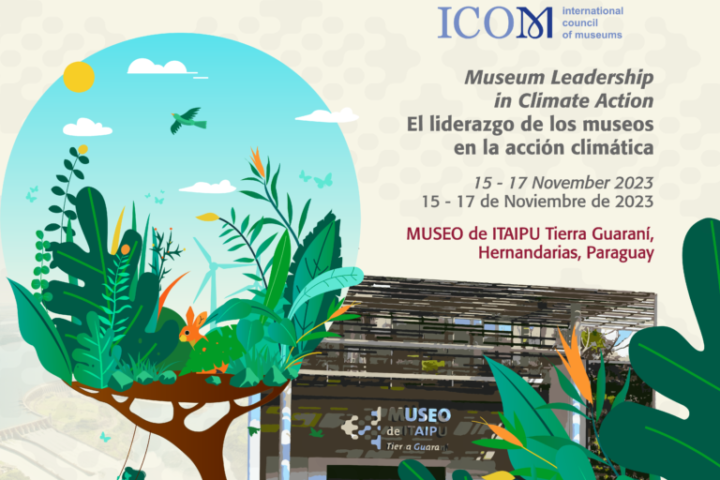 Dear ICOM ICMAH Members, Museologists, Partners and Friends 
ICOM ICMAH International Committee for Museums and Collections of Archaeology and History is cordially invites you to join ICOM ICMAH Annual Conference 2023, which will be titled "MUSEUMS' LEADERSHIP IN CLIMATE ACTION" From 15 to 17 November 2023 at Museo de ITAIPU, Hernandarias, Paraguay. The conference is organized between four International Committees of ICOM: ICMAH, INTERCOM, ICTOP and MPR. During our meeting this year we have 3 activities to do:
ICOM ICMAH Annual Conference 2023

Kindly find attached The conference program (English – Spanish)and the link for online participation. The transmission will be carried out through the Microsoft Teams platform. Below we send the links for each day. The three-day program in English and Spanish is also attached. By clicking on the link, you will access the registration for each day. Add the requested data and you will automatically receive the access link to your email:
Day 2, Thursday, November 16 of 2023:
https://events.teams.microsoft.com/event/584514d2-f19d-422b-96ab-94aa5e4ef9b3@3f27f816-99e9-48e2-96b8-7197a663025bDay 3,
Friday, November 17, 2023 (only for the joint closing conference):
https://events.teams.microsoft.com/event/90b29584-4999-4c36-9300-ec33f4256c41@3f27f816-99e9-48e2-96b8-7197a663025b
ICOM ICMAH'S 8th WORKSHOP ON SPORTS MUSEUMS
Please find below the link to join the workshop on Sports museum online that will be held at the general ICMAH Conference on Nov.17th from 13:00 to 16:00 CET (UTC+1), also the program is attached for your reference. Program is HERE
Topic: ICMAH Working group on Sports Museum Meeting – Paraguay
Time: Nov 17, 2023 13:00 PM Central Europe Time (UTC+1)
Join Zoom Meeting
Meeting ID: 846 7114 0791
Passcode: 578746
ICOM ICMAH General Assembly 
During the meeting ICOM ICMAH Board are going to present the committee's activities in 2023, Budget breakdown, and ICOM ICMAH Internal Rules.
Topic: ICMAH General Assembly Meeting
Time: Nov 17, 2023 06:00 PM Paris
Join Zoom Meeting
Meeting ID: 827 6455 5150
Passcode: 022475
We are so excited to meet you onsite and online as well.
For any information please contact:   Secretary.icmah@icom.museum